Where gone all free space on my APFS storage drive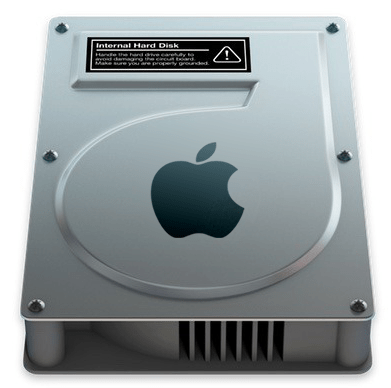 Sometimes it happens that the free space on your storage drive is less than weigh your files. Where is the free space? In this article, I'll show you how to free up space on your storage drive and what occupies space that must be free. Let's begin.
Preamble
Sometimes I am faced with the question where is the free space on my storage drive? I know for sure that my files take up less space than Disk Utility or Finder shows, but just in case I decide to cheque, what if I'm wrong, I start to transfer data to another drive, and then I notice that the free space has not increased.

Checking the free space again using Disk Utility or Finder, space still is occupied. And at this moment I remember about Snapshots. Snapshots are a new feature of Apple's APFS filesystem, this is something like backups. And this only happens with drives formatted in APFS (Apple File System). For remove the Snapshots I'm using CCC (Carbon Copy Cloner) app, I use a paid version, but this function is also available in the trial version.
Note! This article is not an advertisement. I have been using CCC for several years. I used to use the trial version, but then I switched to the paid version, because I make clones of my storage drives often. This app is very useful for me, if you have read my other articles, then you know that backups and clones are very important to me.
I read somewhere that macOS itself delete old Snapshots when free space ended, but I prefer to delete them manually. This time I needed to delete about 800 GB. I am using WD My Book 10 TB, which is separated into three volumes. 6 TB for different data and 2 times 2 TB for clones of my two SSD Samsung T5 2 TB.
Let's begin
Free up space on your storage drive is a really simple process. For this, we need to follow few simple steps. Now let's get started :)
---
Go to the Carbon Copy Cloner app. If you do not use CCC yet, you can download the free version on official web-site of company here.
---
Go to Sidebar. If you don't see Sidebar, just click on Show Sidebar.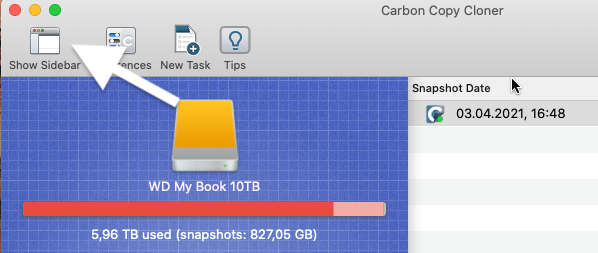 ---
In the left column, select the disk on which you want to free up space. In my case, this is WD My Book 10 TB.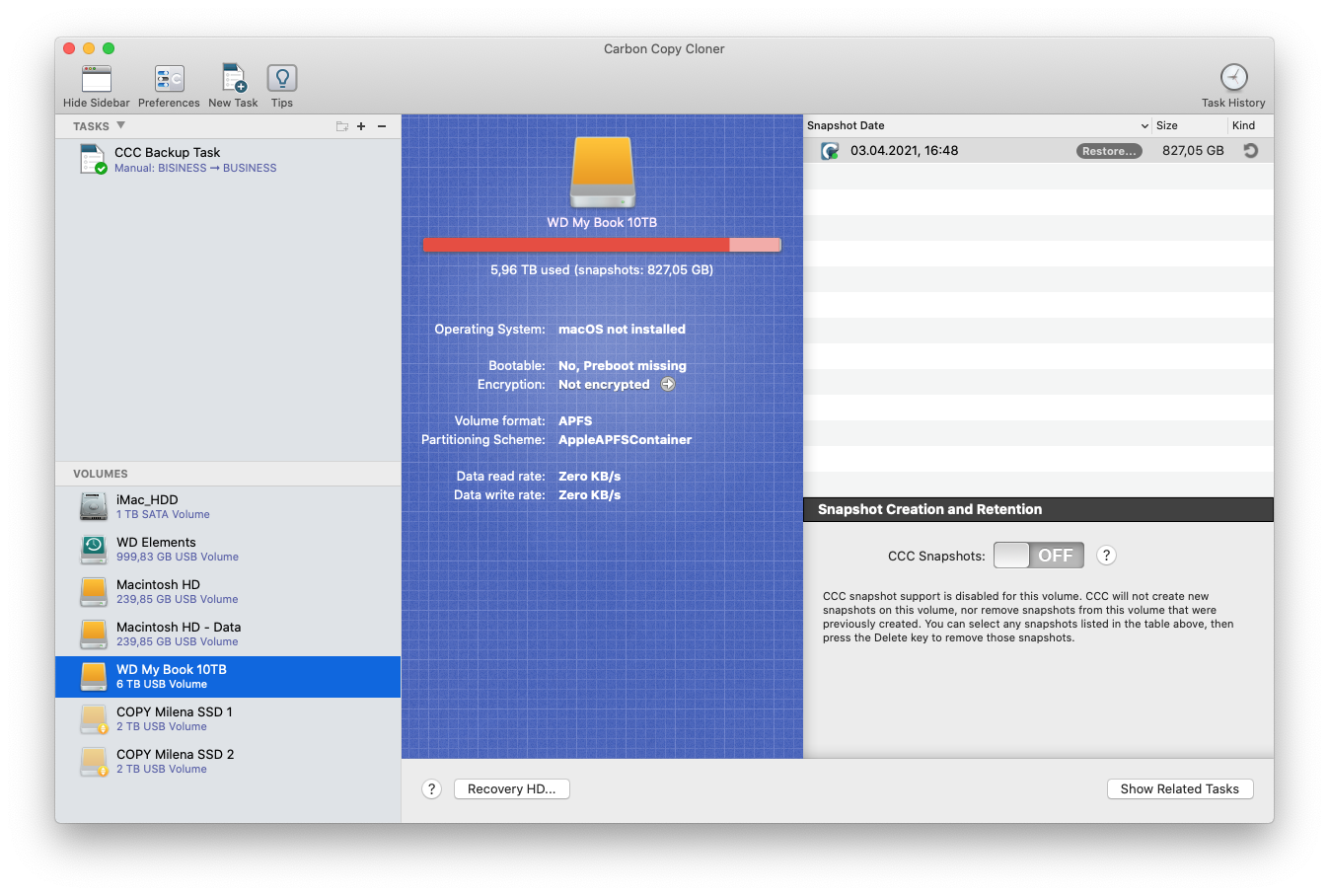 ---
On the right in the column you can see a list of Snapshots (by creation date and size). Сlick to the one you want to delete. In the dropdown list, select Unmount then Delete then OK.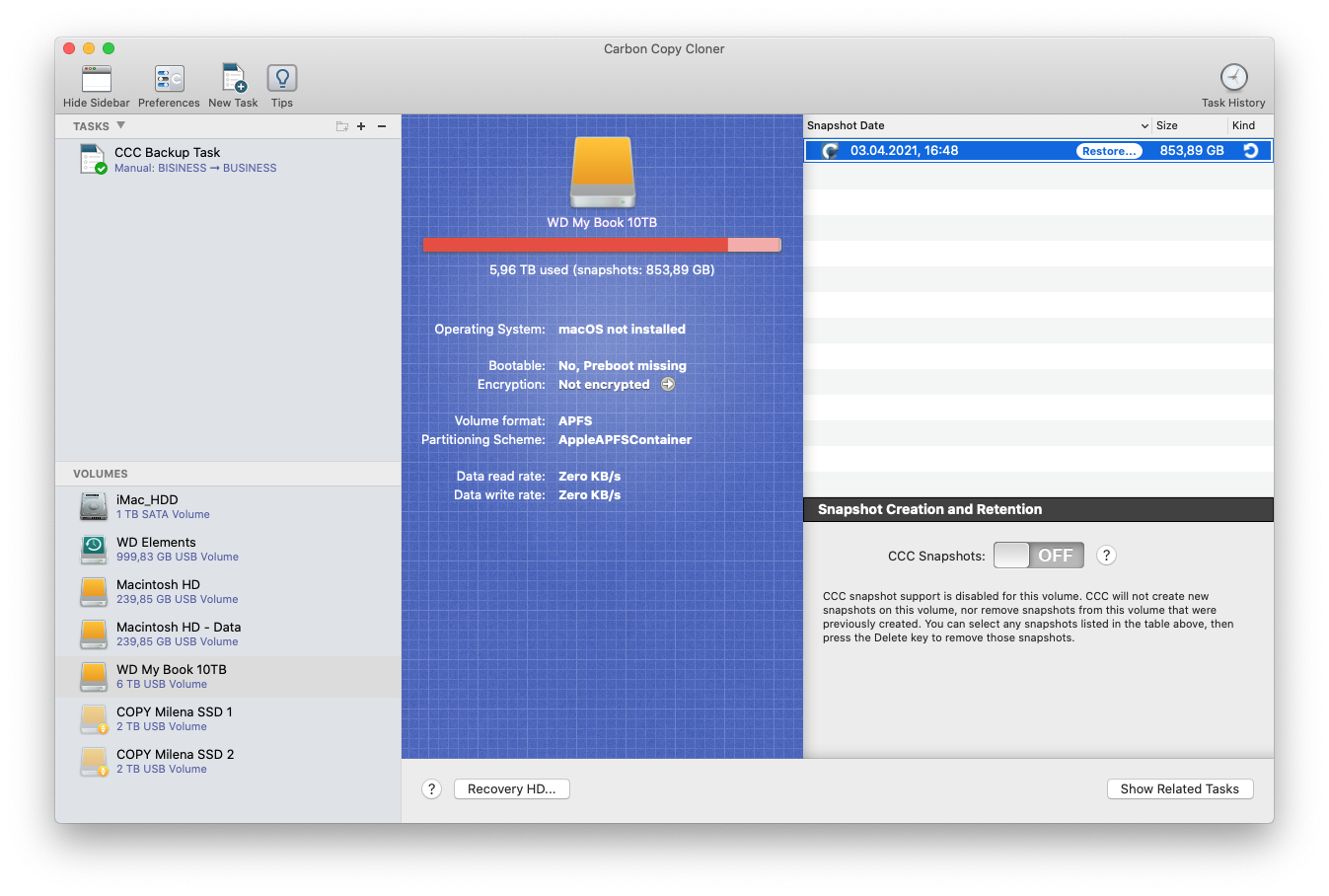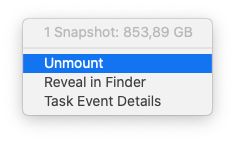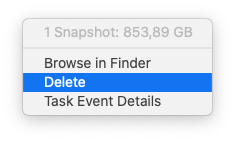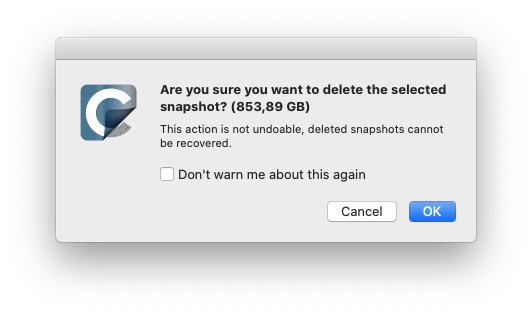 ---
Snapshots are removed and space is free. If you are deleted Snapshots and the space has not increased, restart your computer and cheque again, restarting should help. I cheque the result in Disk Utility and Finder.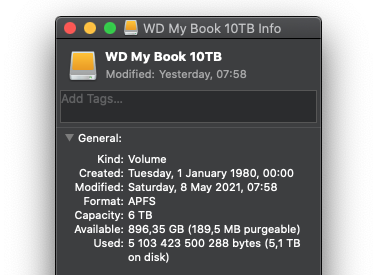 Conclusion
That's it, you're done! Now you know how to free up space on your storage drive. So simple isn't it?
I hope this article helped you to learn how to free up space on your storage drive. If this article has helped you then please leave a comment

Thanks for reading!
Milena Kiseleva
Milena is a web designer and illustrator. She spends her time translating our articles and wrote her own articles. Her personal website can be found at milenakiseleva.com.